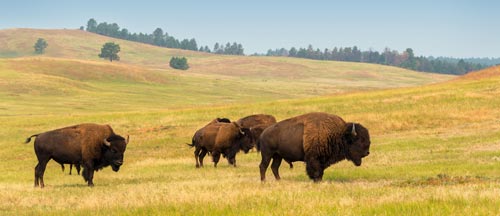 Restoring Mother Earth:
Reintroducing Bison to Their Natural Habit
Chuck Spengler, 
bioBUBBLE
founder and CEO contributed to American Prairie to restore the Bison to their ancestral home. American Prairie aims to protect and restore the prairie ecosystems with many projects from land preservation to habitat and wildlife restoration. 
When you see a bison herd living in their natural habitat you realize the importance of this project.

bioBUBBLE Benchtop Enclosure for a cell sorter at University of Utah.
Oglala Sioux Tribe and Chuck Spengler Create Endowment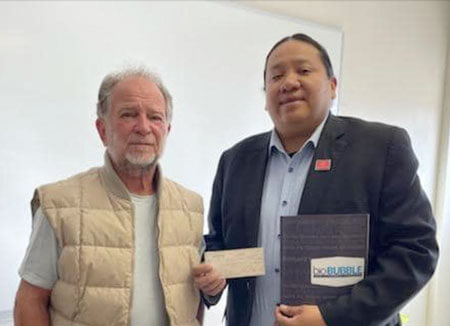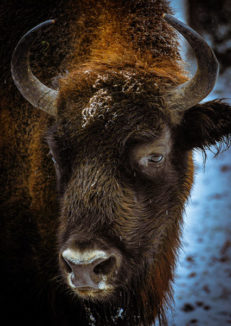 Chuck Spengler, founder and owner of bioBUBBLE, Inc., recently met with Kevin Killer, President of the Oglala Sioux tribe to set up an endowment focused on scholarships for students in environmental and health sciences. Chuck chose to work with the Oglala Sioux Tribe because of their historical connections to the land near Fort Collins. Currently the Sanctuary Scholarship fund will award two annual scholarships. Chuck is excited and honored to work with the Lakota Nation. He looks forward to building a long term relationship to continue his support of students in environmental and health sciences and to provide opportunities to youth in the Lakota Nation.
For more about the Oglala Lakota College and their mission "Rebuilding the Lakota Nation through Education" visit 
www.olc.edu
.
For more information on the Sanctuary Scholoraship fund, please contact Marilyn E. Pourier, Development Director, Oglala Lakota College 605-455-6045 direct line 
mpourier@olc.edu
.
bioBUBBLE Enables Ancient DNA Research at the Smithsonian National Museum of Natural History
bioBUBBLE worked with the Smithsonian National Museum of Natural History to create a 17 x 17-foot positive pressure cleanroom within a laboratory at the Smithsonian's Museum Support Center that houses preserved biological specimens. This cleanroom allows scientists to extract and analyze ancient DNA from skeletons, mummified tissue, and tissue remains without danger of contamination. Learn more about how a bioBUBBLE cleanroom enhanced Smithsonian research.

A Note From the President of Transpharm
Source: TransPharm Preclinical Solutions' March 29, 2017 eNewsletter
January 2017 marked our 9 year anniversary and the close of another great year here at TransPharm. With 17 new clients in 2016, the TransPharm family now spans over 6 continents. As a result of our continued growth, we were able to reach a major milestone in November: a total of $10M in revenue since I founded the company in 2008. Increased demand also allowed us to welcome some new faces to our team – Brianne Fiero (Associate Scientist) in April, and Brittany Dixon (Scientific Writer) and Emily Gilles (Laboratory Technician) in October.
2016 was also a year of physical growth. A 2,100 sq. ft. addition to our facility, including an expanded animal vivarium and a procedure room, was completed in May. This new space contains both a negative pressure room and a positive pressure room, with corresponding bioBUBBLE enclosures in each, meaning separate, dedicated areas for C. difficile and germ-free work, respectively. The renovations have already proven advantageous to our clients who currently work in the C. difficile therapy development field. Please contact us for more information.
Finally, I'd like to extend an open invitation to visit us here at TransPharm. We wouldn't be celebrating these successes without our clients, and we'd love the opportunity to meet you personally and provide a tour of our facilities. Thank you for your business and we look forward to working with you in the new year.
Daniel Ross
President & CEO
TransPharm Preclinical Solutions
Negative (red) and positive (blue) pressure bioBUBBLE enclosures in separate, pressurized rooms allow for C. difficile and germ-free studies in vivo.
CINVESTAV Wins Facility of the Year Award!
(To learn more about our role in the CINVESTAV Project, click here.)
Source: Laboratory Design TurnKey Conference Award Winners Announced
The TurnKey Awards were presented to the 2016 winners at the TurnKey Conference on May 24th at the Gaylord National Harbor Resort and Convention Center in Oxon Hill, MD (Washington, DC). The awards, given by ALN Magazine are in recognition of excellence in two categories: teamwork and facility design. At the awards luncheon, Robert T. Dauchy from the Tulane University Structural & Cellular Biology/Comparative Medicine Team, Betty Thierault from the Carlson Husbandry Team at the University of Chicago, and Jorge Fernardez Hernandez of the Centro de Investigación y de Estudios Avanzados del IPN were presented with plaques and celebrated as this year's winners.
The Centro de Investigación y de Estudios Avanzados del IPN Receives the TurnKey Facility of the Year Award
The Facility of the Year Award recognizes outstanding achievements in the design/build of a new or renovated laboratory animal facility. The award is intended to showcase new ideas and accomplishments in facility design, construction, and operation and was sponsored by Allentown Inc. This year's winner is the Centro de Investigación y de Estudios Avanzados del IPN in Mexico City, Mexico.
Also known as CINVESTAV, this Mexican non-governmental scientific research institute was founded in 1961. It's Animal Care and Use Program offers services to 43% of all research departments who work in 375 active animal use protocols revised and approved by IACUC.
The brand new animal facility, known as UPEAL, was built and designed in response to the needs of the research community of CINVESTAV and other public and private institutions in Mexico. UPEAL was designed with animal husbandry flexibility, reduced energy and water consumption, and a low cost of ownership in mind and the four story, 27,749 square foot building exceeds industry standards. It was designed by Tea Arquitectos SA de CV and built by INGLUE SA de CV.
The facility improves the quality of animals used at CINVESTAV as models for biomedical research programs. It also increases the number of research scientific collaborations both throughout Mexico and internationally.
This is the one of the most advanced animal facilities in Mexico and Latin America. The design using flexible clean rooms, IVC housing technology, macro and micro environmental conditions with double HEPA filtration and its control and all support equipment for washing, disinfection and sterilization, made this facility unique in this geographical area.
"The new world-class building represents big improvements and exceeds industry standards in the region. The CINVESTAV animal care facility project has been a collaborator achievement in architectural design and construction by a group of local architects and engineers, headed by the direction of the Animal Facility Director, as well as all of the staff during the planning, design, construction, and commissioning processes," wrote one recommendation.
With this facility, CINVESTAV´s animal care and use program guarantees for many years the animal welfare in a high quality environment for rodents and personnel, to support the advance of biomedical research at CINVESTAV and other Mexican institutions.
The Tulane University Structural & Cellular Biology/Comparative Medicine Team and the Carlson Husbandry Team at the University of Chicago Receive TurnKey Facility Team of the Year Awards
This year, because there were so many excellent nominations for the TurnKey Facility Team of the Year award, there are two winners. The Carlson Husbandry Team at the University of Chicago and the Tulane University Structural & Cellular Biology Comparative Medicine Team were both named winners of the 2016 TurnKey Facility Team of the Year. The TurnKey Facility Team of the Year Award recognizes an outstanding staff working in laboratory animal research. This award acknowledges the important role of teamwork in the operation of a facility, humane care of research animals, and the impact on research outcomes.
The Carlson Husbandry Team at the University of Chicago has faced many challenges throughout the last 12 months, including flooding, renovations, climate change, and multiple facility moves. As a result, the team generated multiple innovative ideas to help relocate animal models, preserve experimental data, and maintain homeostasis. They did all this, while caring for up to fifteen different species of laboratory animals, including aquatics and exotics. This means each staff member is cross trained across all facility species and housing areas, allowing the team to respond nimbly to changing species census and research demands.
The Tulane University Structural & Cellular Biology/Comparative Medicine Team was formed in 2008, when the chrono-neuroendocrine oncology program at the Bassett Research Institute in Cooperstown, New York, relocated to the Tulane University School of Medicine. During this process, the team noticed issues in animal facility light contamination at night, disrupting circadian rhythms in laboratory animals. A study based on this finding was published in JAALAS in 2011. Work by the team has been recognized for a high level of regulatory compliance with the USDA, OLAW, AAALAC, ACLAM, and AALAS.
Congratulations to our winners!
AALAS 66th National Meeting
Phoenix, AZ
Platform Session- Husbandry Management 3
8:00 AM – 10:30 AM / Room 124A
November 4, 2015
Abdel Ayadi
Institut Clinique de la Souris, Illkirch France
PS48 Decontamination of Valuable Stocks in a Barrier Facility Using Embryo Transfer Rederivation Procedures in a Class 100 Environment

A Ayadi*, I Goncalves, D Ali-Hadji, S Legeay, P Charles, P Andr., C Kujath, T Sorg, H Yann
Institut Clinique de la Souris, Universit. de Strasbourg, Illkirch, France
The number of genetically engineered mice models (GEMs) is growing rapidly due to high-throughput production strategies employed by the International Mouse Phenotyping Consortium (IMPC). Mouse repositories play an important role in promoting and distributing the models produced by such a large international project. The microbiological quality of these distributed models is critical as health status can alter animal welfare, validity and reproducibility of research data. As one of these mouse repositories, we faced endemic infection with opportunistic agents (Helicobacter, Pasteurella and Norovirus) that represent importation issues for researchers requesting strains from our collection. The solution to get rid of these undesired agents is to conduct embryo transfer rederivation procedures. Typically, decontaminations are performed in a different barrier with a higher health status.
Isolators within the parent facility are a viable alternative as they provide an elevated level of animal protection from surrounding environment. However isolators are operationally intensive, and not convenient for mice procedures. Clean rooms operating under positive pressure using HEPA filtration to provide protection for both housing and procedural areas, represent an option that is less labor intensive, and reducing operating costs. We report here the outcome of a 24-month program to rederive GEMs internally with a customized class 100 environment. This enclosure has been installed within our contaminated facility. Embryo-recipient females and rederived mice were health-screened to assess their microbiological status according to the FELASA guidelines. More than 50 strains so far has been successfully rederived free of Helicobacter, Pasteurella and Norovirus, the 3 agents endemically present in our facility with a high prevalence (76, 21 and 94% respectively). To date, 24 months of follow-up mice screening indicates that we achieved our goal of eradicating endemic infectious agents, for strains to be distributed from our repository, based on the use of clean room enclosure.
Besides the outcome of this rederivation program we also present a time/cost analysis between solutions to upgrade mice health status, which drive us in these times of financial limitations.